Top 100 Income- Tax Rulings of 2015, 4th Edition
In Stock
Ships in 5 - 7 Days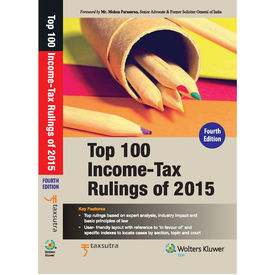 Description
About the Book
Top 100 Income-tax Rulings of 2015, is your guide to the key income tax judgements delivered during the course of the year. Taxsutra's editorial team has carefully picked up selected cases of 2015, based on the principles involved, the industry impact and nature of the controversy.
Key Features
Top rulings based on expert analysis, industry impact and basic principles of law

User- friendly layout with reference to 'in favour of' and specific indexes to locate cases by section, topic and court
About the Author
Taxsutra.com is a one stop destination that equips tax practitioners on a real-time basis with updates and analysis of all income tax rulings and news both domestic and international. With its team of experts, taxsutra.com tracks developments in Income Tax Department, Central Board of Direct Taxes (CBDT) and Finance Ministry, including rulings from Income tax Appellate Tribunal, AAR, High Court and Supreme Court to give you an information and competitive advantage on all tax related matters. Built on an interactive platform, Taxsutra includes discussion forums, expert commentaries from industry stalwarts, white papers and conversations that makes it the most vibrant source for tax practitioners, taxpayers and tax regulators at once.
Features
: Top 100 Income- Tax Rulings of 2015, 4th Edition
: Taxsutra
: 9789351295587
: Hardbound
: 450
You may also be interested in