Practical Guide on TDS and TCS, 16E
In Stock
Ships in 3 - 5 Days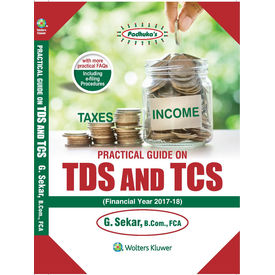 Description
About the Book
Concise and relevant information on the law relating to TDS and TCS, contained in the Income Tax Act, Rules, Circulars and Notifications.

Provisions relating to TDS from every type of payment, viz. Salaries, Interest, Rent, Dividends, etc. have been summarised in separate Chapters.

A Comprehensive material for easy TDS/TCS compliance
Unique Key Features
Ready Referencer for TDS & TCS Rates, for various Assessees under different situations

Use of Tables and Flowcharts to describe the practical and procedural aspects involved in compliance

All Latest Amendments of Finance Bill 2017, uptodate Circulars & Notifications included.

Comprehensive FAQ list explaining intricate issues involved in TDS and TCS Compliance

Extensive Coverage of Procedures to be followed in TRACES.

Formalities and Procedure for e–TDS Return and e–TCS Return
Table of Contents
| | |
| --- | --- |
| Chapter | Topic |
| 1 | Tax Deducted at Source (TDS) – Ready Reckoner |
| 2 | Salaries [Sec.192],[Sec.192A] |
| 3 | Interest on Securities [Sec.193] |
| 4 | Dividends [Sec.194] |
| 5 | Interest other than Interest on Securities [Sec.194A] |
| 6 | Winnings from Lottery, Crossword Puzzles, Horse Races etc. [Sec.194B and 194BB] |
| 7 | Payments to Contractors [Sec.194C] |
| 8 | Insurance Commission [Sec.194D], [Sec.194DA] |
| 9 | NSS Payments, Repurchase of units by Mutual Funds & UTI, Lottery Commission [Sec.194EE, 194F, 194G] |
| 10 | Commission or Brokerage [Sec.194H] |
| 11 | Rent [Sec.194–I] and Transfer of Certain Immovable Property Other than Agricultural Land [Sec.194–IA] |
| 12 | Fees for Professional or Technical Services [Sec.194J] |
| 13 | TDS on Compensation on Acquisition of Certain Immovable Properties [Sec.194LA] |
| 14 | TDS in respect of Payments to Non–Residents |
| 15 | Tax Deduction Account Number (TAN), TDS Certificates and Penal Provisions |
| 16 | Tax Collected at Source (TCS) [Sec.206C] |
| 17 | E–TDS & TCS Returns and Online Tax Accounting Systems |
| 18 | Forms |
| | Annexure 1: FAQ'S on Form 24G |
| | Annexure 2: Statement of Financial Transactions or Reportable Account |
| | Annexure 3 : Various Forms under Income Tax Act |
About the Author
CA G Sekar, FCA
Member Central Council of ICAI 2013–16 & 2016–19
Chairman – Direct Taxes Committee of ICAI –2014
Founder and Faculty for Direct Taxation in Shree Guru Kripa's Institute of Management, an Institution providing education for all levels and all subjects of the Chartered Accountancy Course and has trained many finance professionals.
Commerce Graduate, Gold Medallist & Rank Holder from Virudhunagar Hindu Nadar Senthilkumara Nadar (VHNSN) College, Virudhunagar, Madurai Kamaraj University.
Great Motivator for Chartered Accountants in Practice and in Employment and CA Students, through his effective and convincing Communication style.
Member of the Expert Study Group Committee, Central Board of Direct Taxes, New Delhi, to study the Direct Tax Code Bill in 2006.
Member of the Direct Tax Law Committee of The Institute of Chartered Accountants of India in 2011 –12, Vice Chairman in 2013-14 and Chairman in 2014-15.
Recipient of Special Award from the Income Tax Department in 2011, during their "150 Years ofIncome Tax in India" Celebrations, for his contribution and service to the Income Tax Department.
Speaker on Budget Presentation in Doordharshan and Sun Television. Participated in various Live Public Interaction programmes on Sun Television to create awareness to public on various legal issues on taxation and education, more specifically on challenges and opportunities available for Commerce Students.
Writer of Articles of Professional Interest in Journals like Taxmann, Financial Express, Current Tax Reporter, Business Line, etc.
Speaker in Seminars, Workshops and Programmes conducted by ICAI, its Branches, Study Circles, Chambers of Commerce, Income Tax & C&AG Officers Training Institutes, National Academy of Direct Taxes (Ministry of Finance), Tamil Nadu State Judicial Academy, etc.
Faculty Member of The Institute of Chartered Accountants of India and its Branches, and other Professional and Management Institutions, for CA Intermediate / IPCC and CA Final Level, for the subjects Income Tax, Service Tax, VAT, Direct Tax Law, etc.
Author of Professional Books – for Finance and Legal Professionals, Corporate
Taxpayers, Banks, Officials of Income Tax Department, etc.
Handbook on Direct Taxes

Practical Guide on TDS and TCS - (Approved Book for ITOs)

Personal Income Tax – A Simplified Approach

CA's Handbook on Revised Schedule VI

Service Tax Reckoner

TN VAT and CST Ready Reckoner

Professional Guide to CARO

A Professional Guide to ICDS

Professional Guide to Tax Audit

Handbook for The Insolvency and Bankruptcy Code, 2016
Author of Books for CA Students – Authored 30 books covering the entire curriculum of CA Course. Shree Guru Kripa's Institute of Management is the First and Only Educational Institution in India to accomplish this feat.
Features
: Practical Guide on TDS and TCS, 16E
: Fca Ca G Sekar
: 9789351297987
: 510 Pages
You may also be interested in