In Stock
Ships in 3 - 5 Days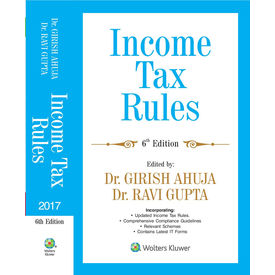 Description
About the book:

The book contains Updated Income Tax Rules along with updated Allied Laws and Updated IT Forms
Key features
Updated Income Tax Rules.

Comprehensive Compliance Guidelines

Relevant Schemes

Contains Latest IT Forms

About the Editors:

Dr. Girish Ahuja is an eminent speaker, a visiting faculty member of ICAI, ICSI, ICWAI and various Management Institutes. He has been a member of the Editorial Advisory Board of the ICSI. He is a member of the Direct Tax Committee and International Tax Committee of the ICAI and a member of the Expert Advisory Board of ICSI.

Dr. Ravi Gupta, an eminent speaker, too, is a senior consultant to various companies, not profit making Organisatons and has vast practical experience in handling tax matters of trade and Industry.
They together have authored more than twenty books on Direct Taxes.
Features
: Income Tax Rules, 6E
: Dr Girish Ahuja Dr Ravi Gupta
: 9789351297116
: 1850 approx
You may also be interested in