Goods and Services Tax- A Primer, 2E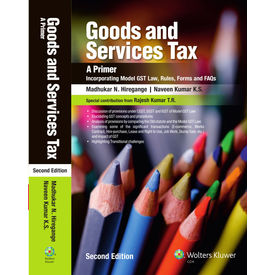 Description
About the Book

Introduction of Goods and Services Tax (GST) is perceived as the biggest tax reform of independent India. GST would subsume many indirect tax laws enacted by the Union and States. With the dynamic developments around GST, the present Government is keen to roll out GST from 1st April 2017. This Edition provides an insight into the concept of GST and its impact on trade and industry. It serves as a guide to tax payers and prepares them for smooth transition from present regime. The book extensively discusses the Model GST Law released by the Government and draft rules and business processes. Recommendations on law, administration, procedures and policy have been made with a commitment to ensure simplicity, certainty, clarity and transparency in GST law by providing sufficient inputs to the Law and policy makers.

Key features


Discussion under various provisions under CGST, SGST and IGST of Model GST Law, 2016

Analysis of provisions by comparing the Old statute and Model GST Law

Elucidating GST concepts and procedures

Examining some of the significant transactions (E-commerce, Works Contract, Hire-purchase, Lease and Right to Use, Job Work, Slump Sale, etc.) and impact of GST

Highlighting Transitional challenges

Frequently asked Questions (FAQs) on Goods and Services Tax (GST)

Incorporating Draft GST Rules, Forms and Formats

About the Authors

Madhukar N. Hiregange is a Senior Partner Hiregange & Associates, having offices in Bangalore, Hyderabad, Vishakhapatnam and NCR/ Gurgaon. He is a faculty at Hiregange Academy, a knowledge and employability initiative engaged in training industry officers, professionals, job seekers and students in IDT. He has jointly authored 15 books on Central Excise, Service Tax, Karnataka VAT and Excise/Service Tax Audit, IDT - IPCC Study Material for Students – July 2015 and Handbook on CST – May 2015. He had been a visiting faculty at various Professional and Management Institutes including the IIM Bangalore.

K.S. Naveen Kumar is a lawyer specialising in indirect taxes litigation and consulting and has appeared before various Tribunals, Courts and legal forums. He has been practicing as a lawyer since 2001 and worked in the chamber of an eminent lawyer Sri. K.S. Ravi Shankar, Bangalore for about 16 years from 1997 to 2013. He was a member of a sub-group constituted by ICAI in 2014-15 for drafting transition provisions for GST, based on which a booklet has been released by ICAI. He was also a part of the sub-group in Bangalore, which developed a background material on Model GST law for ICAI, published recently.

Special contribution from Rajesh Kumar T.R., a practicing Chartered Accountant since 2002 and a partner at Hiregange & Associates, Chartered Accountants.
He has conceptualized the implication of Goods and Service Tax, Central Excise, Customs, Service Tax and Karnataka Value Added Tax Law on practical aspects of Business and assisting the trade in addressing their concerns including representing their cases in representing their cases before various statutory authorities including Customs, Excise, Service Tax Appellant Tribunal (CESTAT). At present, he is a faculty for programs conducted by Institute of Chartered Accountants of India (ICAI) and also a visiting faculty at different Colleges.
Features
: Goods and Services Tax- A Primer, 2E
: Ca Madhukar Hiregange And Mr Naveen Kumar
: 9789351297239
: Paperback
You may also be interested in