In Stock
Ships in 5 - 7 Days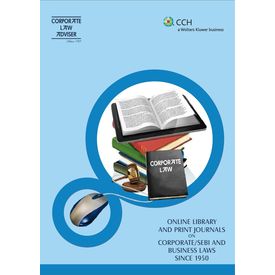 Description
*Price Inclusive of Taxes
BACKGROUND :
CLAonline is a leading source of Legal information comprising of complete digital online law library on Corporate, Wealth of Knowledge SEBI and Business Laws for professionals and institutions powered by "Corporate Law Adviser" one of the most trusted journal on the subject since 1989. CLAonline provides full text of Cases, Legislations, Articles, Notifications, etc. with continuous updates.
COVERAGE
Corporate Laws :
Company Law, Securities Law, SEBI Law, Foreign Exchange Law, Banking, SARFAESI, SICA, Competition Law, LLP, etc.
Business Laws
Arbitration, Consumer Protection, Trade Marks, Designs, Copyright, IDRA, Information Technology, Money This section contains various Queries and their Replies on interesting aspects of Law.
Laundering, Insurance, etc.
CASES
Powered with unmatched head notes
CLAonline contains an ever expanding collection of cases from 1950 till date with new cases added on continuous Case Law Search basis.You will get full text I short notes of cases along with the head note of the judgment,synopsis, cases referred, counsel appearing etc.
The coverage includes cases from :
> SUPREME COURTS
> HIGH COURTS
Tribunals Article Search
> Company Law Board (CLB)
> Securities Appellate Tribunal (SAT)
> Competition Commision of India (CCI)
LEGISLATIONS
Updated Acts and Subordinate Legislations Added Features
Covers all relevant Acts, Rules, Regulations,Guidelines on Corporate and Business Separate tab for a separate search to facilitate quick navigation.Laws amended on regular basis to keep the legislations up-to-date. Covers all the Notifications and Circulars issued by various ministries such as MCA, SEBI, RBI, Ministry of Finance, Ministry of Commerce and Industry, etc. since 1950 with
continuous updations.
ARTICLES :
Wealth of Knowledge:
A vast repository of articles by eminent writers, peer reviewed and published in Corporate Law Adviser on extensive range of topical legal issues.
Commentaries
Get commentaries on the Companies Act 2013 by different authors.
Procedures and Resolutions:
Get Procedures and Resolutions under Company law, LLP for day to day use.
ANGLE OF PERCEPTION
Grey areas in law
This section contains various Queries and their Replies on interesting aspects of Law.
SEARCHES MADE SIMPLE
To make life easy

Case Law Search

The Case Laws can be searched based on the name of the Appellant or the Respondent, Head note, Date of judgment, Judge Name, Advocate Name, Cases referred, Petition No, Citation etc. You also have the option to search cases of a particular Court/s (say Supreme Court and Company Law Board) or a Particular Act (say Companies Act) simultaneously.
Legislation Search
Legislations can be searched based on the Title, Subheading,Year, etc.

Notification Search
Notifications and Circulars can be searched based on the Title, Number, Date, etc.
Article Search
Articles can be searched based on the Title, Summary, Writers name with an advance option of searching by law and relevant subject.

Commentary Search
Commentaries can be searched based on the section number, title of the section etc.
Procedure and Resolution Search
Procedures and Resolutions can be searched based on the title and sub title etc
Added Features
Separate tab for a separate search to facilitate quick navigation.

> Copy paste allowed to prepare your own document.
> Print, download and e-mail.
> Global search across all the contents to facilitate vast research.
> Search within search to come closer to the desired result.
> Save search result
You may also be interested in
Look for Similar Items by Category