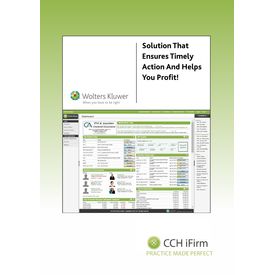 Description
Price: On Request
To View/Download iFirm Brochure,please Click Here
Why invest in CCH iFirm?
Commonly Firms have been working in a disconnected environment maintaining key elements of business information including client details, jobs, staff time sheets and billing information in excel sheets, emails and different systems. The result:
? Client Information not up to date or lost with staff attrition
? Cost of doing jobs often escalates and goes way beyond the fee agreed
? Staff is underutilized or is over burdened with work
? You forget to bill your customers and are not able keep track of receivables and debtors
? Compliance issues become the norm of the day as there is no central system to record all interactions.
? Increased cost of operations and dwindling bottom lines
CCH iFirm Practice Manager is a next-generation, online practice management software designed around jobs, work flow and resourcing. Take a fresh approach to how you charge out your time at the firm and discover a healthier bottom line and happier staff.
Developed by accountants for accountants over the last 10 years, CCH iFirm offers a single integrated, cloud software solution! It's guaranteed to save staff costs, improve profitability and service delivery.
Key Features
1. Integrated View of Your Customers
CONTACT DATABASE provides you with a central and searchable database of your entire client information including contact details, jobs in progress, invoiced value and account receivables.
Benefit
Gives you complete control over business operations - Get a 360 degree view of clients, contact, jobs billing and debtors.
2. Track Jobs from Start to Finish
You, and your staff, can quickly see which jobs need to be done and the order they need to be done in through J OBS & WORKFLOW AUTOMATION. Managers can allocate jobs and prioritize them for the staff, set up Jobs individually or even in bulk and allocate resources manually or set default by client. CCH iFirm is designed to enable easy setup of
Benefit
RECURRING JOBS which make up 60% to 90% of most of the firm   Press Esc to close Powered by 123ContactForm | Report abuse     Price: On Request To View/Download iFirm Brochure,please Click Here Why invest in CCH iFirm? Commonly Firms have been working in a disconnected environment maintaining key elements of business information including client details, jobs, staff time sheets and billing information in excel sheets, emails and different systems. The result: ? Client Information not up to date or lost with staff attrition ? Cost of doing jobs often escalates and goes way beyond the fee agreed ? Staff is underutilized or is over burdened with work ? You forget to bill your customers and are not able keep track of receivables and debtors ? Compliance issues become the norm of the day as there is no central system to record all interactions. ? Increased cost of operations and dwindling bottom lines CCH iFirm Practice Manager is a next-generation, online practice management software designed around jobs, work flow and resourcing. Take a fresh approach to how you charge out your time at the firm and discover a healthier bottom line and happier staff. Developed by accountants for accountants over the last 10 years, CCH iFirm offers a single integrated, cloud software solution! It's guaranteed to save staff costs, improve profitability and service delivery. Key Features 1. Integrated View of Your Customers CONTACT DATABASE provides you with a central and searchable database of your entire client information including contact details, jobs in progress, invoiced value and account receivables. Benefit Gives you complete control over business operations - Get a 360 degree view of clients, contact, jobs billing and debtors. 2. Track Jobs from Start to Finish You, and your staff, can quickly see which jobs need to be done and the order they need to be done in through J OBS & WORKFLOW AUTOMATION. Managers can allocate jobs and prioritize them for the staff, set up Jobs individually or even in bulk and allocate resources manually or set default by client. CCH iFirm is designed to enable easy setup of Benefit RECURRING JOBS which make up 60% to 90% of most of the firm
Look for Similar Items by Category