Fraud, Manipulation and Insider Trading in the Indian Securities Markets- 2E
In Stock
Ships in 5 - 7 Days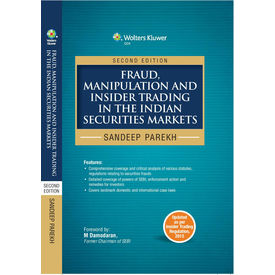 Description
About the Book
The concept of securities regulations covers a field straddled between the areas of finance and law. This book covers an important aspect of securities regulations – fraud, manipulation and insider trading. While both manipulation and insider trading prohibition fall under the broad umbrella of fraud, in India, the law on insider trading has somewhat diverged on its own course.
The book is recommended for corporate houses, practitioners working in the securities market, investment bankers, trader, analysts, deal makers, financial consultants, investment managers, chartered accountants, company secretaries or finance officers, besides lawyers and in-house law officers, MBA and law students.
Key Features
Updated as per Insider Trading Regulations, 2015

Comprehensive coverage and critical analysis of various statutes, regulations relating to securities frauds

Detailed coverage of powers of SEBI, enforcement action and remedies for investors

Covers landmark domestic and international case laws
Appraises for the Author and Previous Edition
Sandeep Parekh is as keen a student as he is a teacher, of the Law – and in the Law of Securities he is most proficient. To those to take pleasure in "the fall of the great and the greatly fraudulent" (as the Economist John Galbraith used to say) this book is instructive as well as entertaining – and particularly useful to those who teach, learn, and practice the LAW.
­Fali S. Nariman, Jurist and Senior Advocate to the Supreme Court of India
Those looking for answers may do well to read Sandeep Parekh's book titled Fraud, Manipulation and Insider Trading in the Indian Securities Market…for students of finance, would-be securities market lawyers, and other participants in the market will do well to invest time to read the book. Financial planners will find it useful as well, specially the chapter on 'Mis-selling and Unsuitability'. Heavy reading the book may be, but persist and get rewarded with gems such as: "..the purpose of modern securities regulations is not to remove stupidity from the capital markets – only ignorance." You chance upon another one while reading about how market upticks and bubbles are fertile grounds for fraud: "the beta of the market hides the negative alpha of frauds.
…
Though the book is about the securities market and the regulations to prevent fraud and manipulation are about stocks, the book is relevant for those preparing for the future of Indian finance according to the road map laid down by the Financial Sector Legislative Reforms Commission (FSLRC).
Monika Halan is consulting editor of Mint and her review of the book excerpted above is from the Financial Planning Journal, Oct 2013
There cannot be a more appropriate time for the book Fraud, Manipulation and Insider Trading in the Indian Securities Markets by Sandeep Parekh than now, at this time of revelations of corporate scandals and judicial actions, regulatory review of the Insider Trading Regulations and the coming into force of the Companies Act 2013, which brings forth onerous responsibilities on the board of directors.
…
With his vast experience in corporate law and regulatory affairs, Parekh is the right person to dwell on the complex subject of insider trading. This book will strike a chord with practitioners and learners alike. It starts earnestly giving a lucid explanation of 'fraud' in common law and statutes and goes on to dwell on Sebi's regulations, quoting the relevant authorities. One of the interesting things about the book is the extent of research material on corporate fraud jurisprudence that has been quoted.
PR Ramesh, advocate reviewed the book in the magazine Outlook Business, 12 Apr 2014
The book "Fraud, Manipulation and Insider Trading in the Indian Securities Markets" provides a unique contribution as it fills an important gap in the literature in securities regulation in India that is gaining prominence. Its coverage as well as contextual analysis would be of immense benefit to practitioners, academics and students alike.
Prof. Umakanth, National University of Singapore.
Sandeep Parekh's book on fraud, manipulation and insider trading is unique not only because it is the only book on the subject, but also because it explains the concepts on first principles in a logical manner. It also analyses the law both as a critic as also the law as it stands. The book presents a balanced view on the complex subjects it seeks to tackle and is an easy read for lawyers and non lawyers alike
Janak Dwarkadas, Senior Counsel, Mumbai
BSE wants to promote a compliance culture as it acts as a frontline regulator in variety of areas including curbing and investigating market malpractices such as fraud, insider trading etc. This book has become an invaluable guide to compliance practitioners and exchange fraternity. This book should be on the table of market practitioners and professionals alike.
Ashish Chauhan, Managing Director and CEO, Bombay Stock Exchange"
About the Author
Sandeep Parekh is the managing partner of Finsec Law Advisors, a financial sector law firm based in Mumbai. He worked as an executive director at the Securities and Exchange Board of India, India's securities regulator, where he headed the Legal Affairs and Enforcement departments and has been a faculty at the Indian Institute of Management, Ahmedabad. He has worked for law firms in Delhi, Mumbai and Washington, D.C. Sandeep focuses on securities regulations, investment regulations, private equity, corporate governance and financial regulations. He is admitted to practice law in New York. He is a World Economic Forum "Young Global Leader" and has spoken at Davos. He has published op-eds in the Financial Times and the Economic Times.
Sandeep has been a member of the Cabinet Secretariat task force for measuring performance in ministries and departments of the Government of India. He is a former chairman and member of various SEBI and RBI Committees and Sub-committees and is a member of Securities Committee of International Law Association, London and CII's National Council on Financial Sector.
Table of Contents
Chapter 1 Background to Securities Frauds
Chapter 2 Common Law Fraud
Chapter 3 Statutory fraud under FUTP Regulations and Companies Act, 2013
Chapter 4 Mis-selling and Unsuitability
Chapter 5 Manipulation of Securities
Chapter 6 Primary Market Regulations on Fraud and Misstatements
Chapter 7Insider Trading
Chapter 8Powers of SEBI, Enforcement and Remedies
Appendices
Acts
Securities and Exchange Board of India Act, 1992 [15 of 1992]
Rules
Securities and Exchange Board of India(Procedure for Holding Inquiry and Imposing Penalties by Adjudicating Officer) Rules, 1995.
Regulations
Securities and Exchange Board of India (Prohibition of Fraudulent and
Unfair Trade Practices Relating to Securities Market) Regulations, 2003
Securities and Exchange Board of India ([Prohibition of] Insider Trading) Regulations, 2015
Securities and Exchange Board of India (Investor Protection and Education Fund)Securities and Exchange Board of India (Investor Protection and Education Fund) Regulations, 2009
Securities and Exchange Board of India (Stock-Brokers and Sub-Brokers) Regulations, 1992
Securities and Exchange Board of India (Intermediaries) Regulations, 2008
Securities and Exchange Board of India (Settlement of Administrative and Civil Proceedings)Regulations, 2014
General Order
Securities and Exchange Board of India (Prohibition on Raising Further Capital from Public and Transfer of Securities of Suspended Companies) Order, 2015.
Features
: Fraud, Manipulation and Insider Trading in the Indian Securities Markets- 2E
: Sandeep Parekh
: 9789351296430
: Hard Bound
: 500 approx.
You may also be interested in