Due Diligence under Foreign Exchange Management Act, 1999. By: CA. Sudha G. Bhushan. (Dec, 2013)
In Stock
Ships in 5 - 7 Days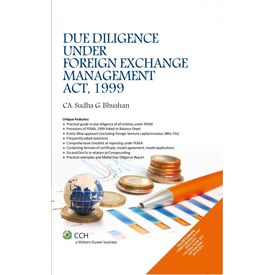 Description
About the Book
The law relating to foreign exchange is of great importance to any country. The Foreign Exchange Policy decisions are based on a detailed assessment of the global and domestic macroeconomic situation. In India, the foreign exchange is regulated by the Reserve Bank of India with Department of Policy and Promotion which manages the foreign Investment in India. This book deals with the regulatory framework of Indian Foreign Exchange laws and discusses in detail the relevant Act, regulations, rules, policies and Government Authorities governing the same. The book provides a deep insight into the Foreign Exchange Management Act, 1999, the Act governing the foreign exchange laws in India. Each aspect of the law has been discussed in great detail.
This book is useful for understanding the entity wise regulatory framework of the investments in India, details of the government authorities to be dealt with and compliance requirements of FEMA, 1999. It provides the case studies, checklists and pictorial representations of content for easy understanding. This book would serve the purpose of being a ready reckoner for foreign exchange laws in India and cater to the needs of professionals especially Chartered Accountants, Company Secretaries and Lawyers and MBAs conducting due diligence on companies and also for professionals dealing in investments by NRIs in India, Resident individuals investing abroad, foreign institutional investors, other foreign investors, Indian and foreign companies while entering into cross border transactions like availing of cross border loans or for structuring cross border equity deals etc.
The book focuses on the due diligence aspect of FEMA, which is based on the balance sheet approach. This approach makes the due diligence exercise more meaningful, comprehensive and easy to manage.
Features of the book:
Practical guide to due diligence of all entities under FEMA

Provisions of FEMA,1999 linked to Balance Sheet

Entity-wise approach (including Foreign Venture Capital Investors, NRIs, FIIs)

Frequently asked questions

Comprehensive checklist of reporting under FEMA

Formats of certificate, model agreements, model applications

Do's and Don'ts in relation to Compounding

Practical examples and Model Due Diligence Report
Content
Chapter 1 - Introduction to Foreign Exchange Management Act, 1999

Chapter 2 - Due diligence under FEMA, 1999 - Introduction and approach

Chapter 3 - Due diligence - Corporate Entities- Balance Sheet Approach

Chapter 4 - Due diligence - Non Resident Indians

Chapter 5 - Due diligence - Resident Individual

Chapter 6 - Due diligence - Foreign Institutional Investors and Qualified Foreign Investors

Chapter 7 - Due diligence - Investment by Foreign Venture capital Investors and Private Equity Firms

Chapter 8 - Due diligence - Overseas Direct investment

Chapter 9 - Investment in liaison office, Branch office and limited liability partnership

Chapter 10 - Appeal and Adjudication

Chapter 11 - Compounding under FEMA
Features
: Due Diligence under Foreign Exchange Management Act, 1999. By: CA. Sudha G. Bhushan. (Dec, 2013)
: Ca Sudha G Bhushan
: 9789351291213
: Due Diligence under Foreign Exchange Management Act, 1999. By: CA. Sudha G. Bhushan. (Dec, 2013)
You may also be interested in