Compendium on the Insolvency and Bankruptcy Code, 2016
In Stock
Ships in 3 - 5 Days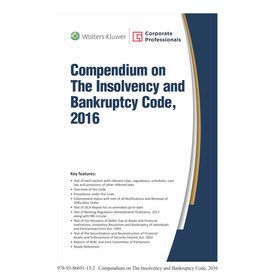 Description
About the Book
Compendium on the Insolvency and Bankruptcy Code, 2016 has been designed to provide a practical approach by providing all the relevant information under each section, the related rules, regulations, forms and schedules while also including the case law and other allied laws at one place.
Key Features:
Text of the section of the Insolvency and Bankruptcy Code, 2016 along with the following:

Date on which the section was enforced.

Relevant Rule(s) and Regulation(s) reproduced at the exact place within the sub-section/ Proviso where it is referred.

Other Sections referred to in the Act.

Referred provision of other law in the Act.

Decided case law.

To provide an overall understanding of the new law, a concise commentary in the form of "Overview of the Insolvency and Bankruptcy Code, 2016" has been provided.

To provide a practical understanding, the book contains the procedures under the Insolvency and Bankruptcy Code, 2016.

To provide quick access to various important information at one place, the following easy to understand tables have been provided: -

Enforcement Status of the Insolvency and Bankruptcy Code, 2016;

Grounds on which petitions for insolvency resolution were rejected;

Gist of decided cases;

Offences and penalties under the Insolvency and Bankruptcy Code, 2016;

List of Special Courts Notified under Section 435 of the Companies Act, 2013;

List of NCLT benches

The book provides text of the following: -

Rules and Regulations made under the Code;

Notifications & Orders issued under the Code;

Insolvency Professionals to act as Interim Resolution Professionals (Recommendations) Guidelines, 2017;

The Sick Industrial Companies (Special Provisions) Repeal Act, 2003 as amended by the Insolvency and Bankruptcy Code, 2016 and the Removal of Difficulties Order;

The Recovery of Debts Due to Banks and Financial Institutions, Insolvency Resolution and Bankruptcy of Individuals and Partnership Firms Act, 1993;

The Securitisation and Reconstruction of Financial Assets and Enforcement of Security Interest Act, 2002;

The Banking Regulation (Amendment) Ordinance, 2017;

Report of the Bankruptcy Law Reforms Committee.

Report of the Joint Committee of Parliament
About the Author

Corporate Professionals, a one stop solution to all its clients, is a pioneer in delivering innovative and distinguished corporate business solutions through a unique model of integrated financial and legal consulting services. The Group comprises of a distinctively positioned Law Firm rendering high quality comprehensive Corporate Laws Services specializing in Companies Act, Securities Law, FEMA, Tax & Regulatory services as well as a separate Merchant Banking Company (SEBI Cat-I license) with Boutique Investment Banking & Transaction Advisory services. High Integrity and Confidentiality in dealing with clients and assignments undertaken is deeply inculcated in our team.
With the right blend of legal and financial skills, continuous focus on research and effective use of Information Technology, Corporate Professionals is creating customised products, for different class of clients. Innovative flair of executing assignments with problem solving zeal and use of Technology has enabled us to offer path breaking solutions.
Features
: Compendium on the Insolvency and Bankruptcy Code, 2016
: Corporate Professionals
: 9789386691132
: 1400 approx
You may also be interested in