Transfer Pricing- An Industry & Technical Perspective
In Stock
Ships in 5 - 7 Days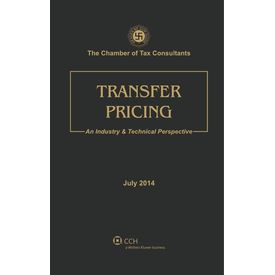 Description
About the book:
The book is a well-researched and in depth compendium with cutting edge industry perspective, legal and regulatory issues brought out in detail. It has adequately covered the recent issues of Transfer Pricing in Specified domestic transactions with greater details on contentious aspects as well as other issues arising out of the provisions of the law.
The book have separate divisions comprising articles covering discussion on technical matters, legal issues and Domestic and International transfer pricing rulings, in-depth analysis of APA regime in India, industry specific challenges, covering around 20 major industries/ sectors.
Key features of the book:
Ø In depth discussion on issues relating to Transfer Pricing
Ø Discussion over Technical, legal and Industry/ Sector related issues
Ø Covers in depth expert's critical analysis of APA program in India and its Pros and Cons
Ø Covers synopsis of transfer pricing regulation in major economies of the world
About the author:
The Book is a compendium of contributions from the leading Tax and Transfer Pricing experts. It is published by Chamber of Tax Consultants.
Features
: Transfer Pricing- An Industry & Technical Perspective
: 9789351292678
: Transfer Pricing - An Industry & Technical Perspective
You may also be interested in
Look for Similar Items by Category