The Law and Practice of Tax Treaties- An Indian Perspective (Second and Updated Edition) . Author: Nilesh Modi (Dec'2013)
In Stock
Ships in 5 - 7 Days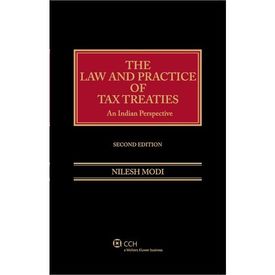 Description
The importance of tax treaty interpretation is at its peak in India.
In recent years, the pace of the Indian jurisprudence on tax treaties has been astounding. Foreign decisions and overseas revenue rulings are being increasingly considered in India while interpreting tax treaties.
The second and updated edition explains the Model Conventions with reference to, inter alia, the Indian decisions, CBDT Circulars, overseas jurisprudence, Australian Taxation Office (ATO) rulings, and Technical Explanations to the Indian treaties with US and Australia. The book provides a reference to the Model Commentaries as well as to the OECD Reports and analyses whether the UN/OECD view is in consonance with or departs from the Indian/overseas jurisprudence.
Salient Features:
• Tax treaty interpretation from an Indian perspective
• Separate analysis of the each of the 30 Articles in the UN Model, which forms the basis of negotiation of Indian tax treaties, the corresponding Articles in the OECD Model and certain Indian treaties
• Crisply analyses nearly 1,350 Indian decisions, 850 foreign judgments from 40 countries and 100 ATO rulings, which are relevant for Indian treaties, making the book the MOST COMPREHENSIVE one of its kind
• Analyses whether the views of the Indian Tax Administration, as reflected in its observations to the UN/OECD Commentary, are in consonance or at variance with the Indian jurisprudence/international practices
• Detailed chapter on principles for "Interpretation of Tax Treaties"
• Comprehensive chapter on taxability of "Fees for Technical Services" and "E-Commerce"
• Analysis under easy-to-find headings and sub-headings
Features
: The Law and Practice of Tax Treaties- An Indian Perspective (Second and Updated Edition) . Author: Nilesh Modi (Dec'2013)
: Nilesh Modi
: 9788184735314
: TLP
You may also be interested in
Look for Similar Items by Category