Simplified Approach to Costing Theory (IPCC) , 13E
In Stock
Ships in 3 - 5 Days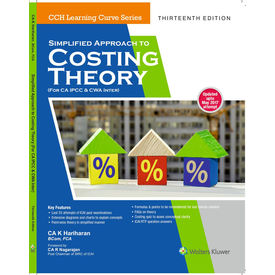 Description
About The Book

The book has been purely drafted to meet the overall objective of students from examination point of view. Questions have been framed considering the past 35 attempts of CA IPCC examinations. Point-wise theory in most simplified manner and wherever possible extensive diagrams and charts have been prepared to explain the concept in detailed manner.
The book covers right from the definition of "costing," travels through the most significant issues on Material, Labour, Overheads, passing through Integrated & Non-Integrated Accounting System, operating and Process Costing and reaching the destination of most challenging areas of Standard Costing, Marginal Costing and Budgetary control in a comfort of ease creating lot of confidence in the minds of students. To top up, the uniqueness of the book is FAQ and for last minute Revision!
Last few pages have been provided with important formula and formats which would help in carrying out preparation one day before the examination.

Key Features

• Last 35 attempts of ICAI past examinations
• Extensive diagrams and charts to explain concepts
• Point-wise theory in simplified manner
• Formulas & points to be remembered for last minute revision
• FAQs on theory
• Costing quiz to asses conceptual clarity
• ICAI RTP question answers

About the Author

• Fellow member of ICAI
• B.Com Gold Medalist
• Bharathidasan University Topper
• Recipient of CHIEF MINISTER's Award for excellence in academics
• Faculty member of SIRC of ICAI Chennai & 14 other branches
• Resource person C&AG – RTI
• Founder cum faculty of Premier Academy – Chennai
• Established faculty in many colleges & academies – Chennai, Coimbatore, Cochin, Bangalore, Hyderabad, Kurnool etc.
• IAM – Calicut, Bangalore, Trissur & Dubai
• Faculty member of ICAI E-Lecture - Delhi
• Faculty of ICMA & ICSI
• Authored Ten books on Costing & Financial Management for CA, CMA & CS students
• Organized various seminars for CA/CWA/CS & other professionals
• Handled 38 hours continuous class (2 full days & one full night) for CA – Final costing crash course @ ICAI Trivandrum Branch
• Presented articles in SICASA & SIRC Newsletters of CA Institute
• Resource person cum trainer for "Finance for Non-finance people" for various corporate.
Table of Contents
1.

Basic Concepts

2.

Material Costing

3.

Labour Costing

4.

Overheads

5.

Integrated and Non-integrated Accounting System

6.

Job, Batch and Contract Costing

7.

Operating Costing

8.

Process Costing

9.

Joint Products and By-Products

10.

Standard Costing

11.

Marginal Costing

12.

Budgetary Control

Frequently Asked Questions

For Your Revision
Features
: Simplified Approach to Costing Theory (IPCC) , 13E
: Ca K Hariharan Fca
: 9789351298298
: 165
You may also be interested in
Look for Similar Items by Category