Professional Guide to Tax Audit, 4E
In Stock
Ships in 3 - 5 Days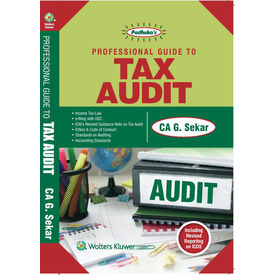 Description
About the Book
All the aspects involved in Tax Audit is provided in a simple and effective manner

Detailed Explanations of the Provisions of Income Tax Law and reporting requirements of Form 3CD are discussed item wise

Clause by Clause Analysis and inclusion of Highly useful Checklist for Auditors for clause wise verification

Handy book comprising relevant provisions of Income Tax Provisions and Standards on Auditing
Unique Key Features
Separate Chapter on E–filing of Tax Audit Reports including Step by Step approach guiding E­–Filing in Java Utility

Use of Tables and Flowcharts to analyse and understand the provisions

Aspects to be documented by the Auditor are highlighted including the documentation formats

Latest Amendments made by Finance Bill,2017 given as a Fast Tract Reconer

Covering provisions of revised ICDS

TDS TCS tax tables and DTAA tables for ready reference
Table of Contents
Chapter 1: Applicability of Tax Audit u/s 44AB
Chapter 2: Business or Profession
Chapter 3 Sales / Turnover / Gross Receipts
Chapter 4: Tax Auditor – Appointment, Duties, Ethics, etc.
4.1 Appointment of Tax Auditor – Qualifications, Disqualifications, etc.
4.2 Appointment of Tax Auditor – Procedural Aspects .
4.3 Ceiling on the number of Tax Audit Assignments.
4.4 Remuneration of Tax Auditor
4.5 Removal of Tax Auditor
4.6 General Audit Procedures in Tax Audit
4.7 Responsibilities of Tax Auditor
Chapter 5: Tax Audit Reports
5.1 Clause by Clause Analysis of Form 3CD

Chapter 6: E–Filing
Chapter 7: Applicability Accounting Standards for Tax Audit
Annexures
Income Computation and Disclosure Standards

Amendments made by Finance Bill, 2017

Recommended Form of Financial Statements of Non–Corporate Entities

Deductions under Chapter VI A of the Income Tax Act

Summary of TDS Provisions

Audit Reports under various provisions of the Income Tax Act.

Depreciation Rates as per Income Tax Act
About the Author
CA G Sekar, FCA
Member Central Council of ICAI 2013–16 & 2016–19
Chairman – Direct Taxes Committee of ICAI –2014
Founder and Faculty for Direct Taxation in Shree Guru Kripa's Institute of Management, an Institution providing education for all levels and all subjects of the Chartered Accountancy Course and has trained many finance professionals.
Commerce Graduate, Gold Medallist & Rank Holder from Virudhunagar Hindu Nadar Senthilkumara Nadar (VHNSN) College, Virudhunagar, Madurai Kamaraj University.
Great Motivator for Chartered Accountants in Practice and in Employment and CA Students, through his effective and convincing Communication style.
Member of the Expert Study Group Committee, Central Board of Direct Taxes, New Delhi, to study the Direct Tax Code Bill in 2006.
Member of the Direct Tax Law Committee of The Institute of Chartered Accountants of India in 2011 –12, Vice Chairman in 2013-14 and Chairman in 2014-15.
Recipient of Special Award from the Income Tax Department in 2011, during their "150 Years ofIncome Tax in India" Celebrations, for his contribution and service to the Income Tax Department.
Speaker on Budget Presentation in Doordharshan and Sun Television. Participated in various Live Public Interaction programmes on Sun Television to create awareness to public on various legal issues on taxation and education, more specifically on challenges and opportunities available for Commerce Students.
Writer of Articles of Professional Interest in Journals like Taxmann, Financial Express, Current Tax Reporter, Business Line, etc.
Speaker in Seminars, Workshops and Programmes conducted by ICAI, its Branches, Study Circles, Chambers of Commerce, Income Tax & C&AG Officers Training Institutes, National Academy of Direct Taxes (Ministry of Finance), Tamil Nadu State Judicial Academy, etc.
Faculty Member of The Institute of Chartered Accountants of India and its Branches, and other Professional and Management Institutions, for CA Intermediate / IPCC and CA Final Level, for the subjects Income Tax, Service Tax, VAT, Direct Tax Law, etc.
Author of Professional Books – for Finance and Legal Professionals, Corporate
Taxpayers, Banks, Officials of Income Tax Department, etc.
Handbook on Direct Taxes

Practical Guide on TDS and TCS - (Approved Book for ITOs)

Personal Income Tax – A Simplified Approach

CA's Handbook on Revised Schedule VI

Service Tax Reckoner

TN VAT and CST Ready Reckoner

Professional Guide to CARO

A Professional Guide to ICDS

Professional Guide to Tax Audit

Handbook for The Insolvency and Bankruptcy Code, 2016
Author of Books for CA Students – Authored 30 books covering the entire curriculum of CA Course. Shree Guru Kripa's Institute of Management is the First and Only Educational Institution in India to accomplish this feat.
Features
: Professional Guide to Tax Audit, 4E
: Fca Ca G Sekar
: 9789351297994
: 596 Pages
You may also be interested in