Padhuka' s Question Bank Direct Taxes for CA Final
In Stock
Ships in 3 - 5 Days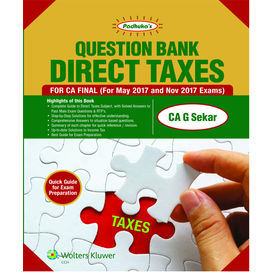 Description
Highlights of this Book

• Complete Guide to Direct Taxes Subject, with Solved Answers to

Past Main Exam Questions & RTP's.

• Step-by-Step Solutions for effective understanding.

• Comprehensive Answers to situation based questions.

• Summary of each chapter for quick reference / revision.

• Up-to-date Solutions to Income Tax

• Best Guide for Exam Preparation.
Features
: Padhuka' s Question Bank Direct Taxes for CA Final
: Ca G Sekar
: 9789351297420