Directors, Meetings and Resolutions
In Stock
Ships in 5 - 7 Days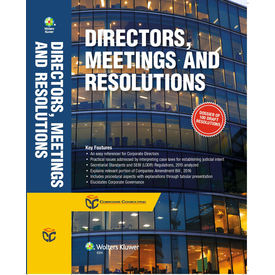 Description
About the Book
The Companies Act, 2013 has enforced sweeping changes to the mindset of corporates and their managers alike. Codified roles and responsibilities, higher penalties, disclosures have made the position of directors more demanding. As one moves along with complying with the letter and spirit of law, there may be many questions which are not answered by the relevant section itself. A plethora of rules, notifications, case laws and standards of the ICAI and ICSI also need to be looked into.
With this background, the book takes a comprehensive approach to understand the requirements of the office of a director, his roles, responsibilities, liabilities in the light of the relevant sections, decided cases and the applicable Secretarial Standards, when it comes to procedural aspects like board and committee meetings. For ready reference updated rules for appointment and management of Directors, Key Managerial Personnel, Meeting of Board and its powers, The Companies (Amendment) Bill, 2016, Exemption notification for government and private companies, SEBI (LODR) and SS-1 have been provided as appendices.
To further help our readers navigate their way in the daily performance of corporate actions a separate chapter on resolutions has also been carved out.
Key features
An easy referencer for Corporate Directors

Practical issues addressed by interpreting case laws for establishing judicial intent

Secretarial Standards and SEBI (LODR) Regulations, 2015 analyzed

Explains relevant portion of Companies Amendment Bill , 2016

Includes procedural aspects with explanations through tabular presentation

Elucidates Corporate Governance

Dossier of 100 resolutions required during Board and Committee meetings
About the Author
Corpcode is a midsized consulting firm with diverse professionals having significant industry insights & exposure with global brands. We ensure to provide customized solutions to clients and ensure quality services throughout the business lifecycle. From market research to implementing business setup, Corpcode provides assurance, tax and regulatory advisory to international and domestic clients. We are a research oriented consulting firm herein we believe in consolidating our experience to provide business insights to the Industry. As we expand our reach both in India and aboard, we move on to become a phenomenon rather than being a name in the consulting domain
Major Contributors
Amitava Banerjee
Amitava Banerjee is Company Secretary and holds a diploma in Business Laws from NUJS, Kolkata along with a Master's Degree in Commerce. He has with worked for Industry Chambers and catered to corporate consultancy firms and served as Company Secretary for both listed and unlisted joint venture companies in FMCG, Infrastructure and Hospitality Industry.
Sandeep Mehra
Sandeep is a member of Institute of Company Secretaries of India and a law graduate. He has more than 8 years of experience in advising foreign companies on their India entry strategy, legal entity set-up, contractual management, corporate governance matters, compliance management and due diligences.
His expertise lies in advising the companies on Companies Act, Foreign exchange regulations, Corporate Governance matters, entities set ups, regulatory compliances and liaising with the regulatory authorities.
Table of Contents
Chapters

Name

Part-A Directors

1

Introduction to Company Management

2

Types of Directors

3

Independent Directors

4

Shadow Directors

5

Whole-time key managerial personnel

6

Loans, Related Party Transactions and Office or Place of Profit

7

Managerial Compensation

8

Liabilities of Directors

9

Register, Records, Disclosures and Reports

10

Board and Committees- Rationale, Functions and Evaluation

11

Board Induction and Familiarisation Process

Part-B Meetings

12

Board Meetings and Committee Meetings

Part- C Resolutions

13

Company Resolutions

Part-D- Corporate Governance

14

Corporate Governance

Appendices
Features
: Directors, Meetings and Resolutions
: Corpcode Consulting
: 9789351297697
: 900
You may also be interested in