Comprehensive Guide to Foreign Exchange Management- 1E
In Stock
Ships in 5 - 7 Days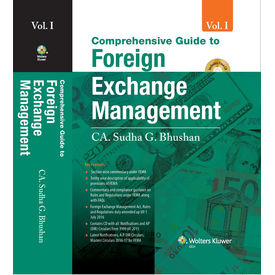 Description
About the Book
This book deals with the regulatory framework of Foreign Exchange laws in India viz, Foreign Exchange Management Act, Foreign Contribution (Regulation) Act, 2010, Prevention and Money laundering Act 2002 and Black Money (Undisclosed Foreign Income and Assets) and Imposition of Tax Act, 2015 and others.
The book provides deep insight into Foreign Exchange Management Act, 1999. It contains section wise commentary of all the Sections under FEMA. All the Regulations and Rules under FEMA have been comprehensively discussed and have been divided, based on entity to which it is applicable. All the entities under the Act viz limited liability partnership, Foreign Institutional Investors, Non-resident Indians, Residents, Corporate entities, AIFs, REITS, InvITs, Foreign Venture Capital Investor etc have been duly covered. The Balance Sheet approach has been adopted in this publication, to ease the understanding of the applicability of various provisions of FEMA, 1999 to a company. Every heading of Balance sheet has been taken into account and related to the provision under FEMA, making it easier to understand the law.
It incorporates a comprehensive and meticulous coverage of all new topics including 'FDI in Investment Vehicles', 'Rupee denominated Bonds' 'FDI in start-up' etc.
The book comprises of Case studies, Checklists, illustrations and practical guidance into all most all the provisions under the Act. It includes pictorial representation of the various Regulations and Rules for ease of reference. An exhaustive list of certification to be done by CA/ CS/ CWA under the FEMA has also been added for guiding the practitioners.
The exhaustive database compiled in this publication including all Master Circulars, Master Directions, Regulations, Rules, Notifications, AP DIR Circulars, FDI Policy and Forms relating to FEMA makes it a "One Stop Solution" for all the queries relating to FEMA. The brief summary of Regulations and Rules along with the Glossary of all the terms used under the Act, makes the interpretation simpler. The historical data dating back from 1999 to 2015 for the Notifications and AP (DIR) Circulars issued by the RBI have been compiled and provided in the CD attached, for the reader's convenience.
This book is a practical guide on FEMA and all the practitioners dealing with the subject including the Chartered Accountants, Company Secretaries, Cost Accountants, Lawyers Authorised dealer Banks, MBAs will surely find it to be of great value.
Key Features
Volume-1
Section wise commentary under FEMA

Entity wise description of applicability of provisions of FEMA

Commentary and compliance guidance on Rules and Regulations under FEMA along with FAQs

Foreign Exchange Management Act, Rules and Regulations duly amended up till 1 July 2016

Containing CD with all Notifications and AP (DIR) Circulars from 1999 till 2015

Latest Notifications, A.P. DIR Circulars,

Masters Circulars 2016-17 for FEMA
Volume-2
Foreign Direct Investments Policy of 2016 along with Press Releases

Foreign contribution Regulation Act, 2010 along with amended Rules and Regulations

Prevention of Money laundering Act, 2002 along with amended Rules and Regulations

Other allied laws effecting Foreign Exchange legislation in India

Relevant Forms under FEMA
About the Author
CA. Sudha G. Bhushan is practicing Chartered Accountant, who has been providing guidance to her clients on the subject for more than a decade. With her in depth knowledge and exposure in the field, she has put emphasis on all the practical aspects under the Act and compliance guidelines. No other book provides such a comprehensive and meticulous coverage of the Act in the manner put by Author.
Table of Contents
VOLUME-1
Division One: Birds' eye view
Rules/ Regulations as per the provisions of FEMA
Comparative Table- FERA FEMA
Glossary
Division Two: Commentary on FEMA
Chapter -1 Introduction to Foreign Exchange Management
Chapter -2 Conceptualisation of FEMA
Chapter-3- Corporate entities
Chapter-4- Non Resident of India
Chapter-5 Resident Individuals
Chapter- 6 FIIs and FPIs
Chapter-7 FVCI ,AIF, REITs and InvITS
Chapter-8 Liaison Office, Branch office, Project Office
Chapter-9 Overseas Investments
Chapter-10 Appeals and Adjudication
Chapter-11 Compounding
Chapter-12 FDI in Limited Liability Partnership
Chapter 13- Prevention of Money Laundering Act
Chapter 14- Foreign Contribution Regulation Act
Division Three: Foreign Exchange Management Act
Synopsis of the Act
Act
Division Four: Rules and Regulations
Rules and Regulations
Division Five: Master Circulars and Directions
Master Circulars for 2015-16
Master Directions for 2015-16
VOLUME-2
Division Six: Notifications under FEMA
Division Seven: AP DIRs
Division Eight: Consolidated Foreign Direct Investment Policy 2016 along with the latest press release
Division Nine: Foreign Contribution
Foreign Contribution Regulation Act, 2010
FOREIGN CONTRIBUTION REGULATION RULES, 2011
FOREIGN CONTRIBUTION REGULATION (Amendment) RULES, 2015
Foreign Contribution (Acceptance or Retention of Gifts or Presentations) Rules, 2012
Notifications issued under Foreign Contribution (Regulation) Act, 2010
Guidelines
Notified agencies u/s 2(1)(e) of Foreign Contribution (Regulation) Act, 1976
Division Ten: Money Laundering
Prevention of Money Laundering Act, 2002
Rules
Notifications
Division Eleven: Other Allied Laws
Conservation of Foreign Exchange and Prevention of Smuggling Activities Act, 1974
Payment and Settlement Systems Act, 2007
Certificates of Authorisation issued by the Reserve Bank of India under the Payment and Settlement Systems Act, 2007 for Setting up and Operating Payment System in India
Black Money (Undisclosed Foreign Income and Assets) and Imposition of Tax Act, 2015
Foreign Exchange Regulation Act, 1973
Issue of Foreign Currency Convertible Bonds and Ordinary Shares (Through Depositary Receipt Mechanism) Scheme, 1993
Issue of Foreign Currency Exchangeable Bonds Scheme, 2008
Depository Receipts Scheme, 2014
Foreign Trade (Development and Regulation} Act, 1992
Foreign Trade (Regulation) Rules, 1993
Foreign Trade (Exemption from Application of Rules in certain Cases) Order, 1993
Smugglers and Foreign Exchange Manipulators (Forfeiture of Property) Act, 1976
Smugglers and Foreign Exchange Manipulators (Appellate Tribunal for Forfeited Property) Rules, 1977
Appellate Tribunal for Forfeited Property (Procedure) Rules, 1986
Appellate Tribunal for Forfeited Property (Fees) Rules, 1987
Smugglers and Foreign Exchange Manipulators (Receipt, Management and Disposal of Forfeited Property) Rules, 2006
Safeguard Measures (Quantitative Restrictions) Rules, 2012
Division 12 - Compilation of Forms
Software Export Declaration (SOFTEX) Form (original/duplicate/triplicate)
SDF
Currency Declaration Form
Application for drawal of Foreign Exchange
Return to be filed by an Indian company who has arranged issue of GDR/ADR
Application for remittance of legacies, bequests or inheritances to beneficiaries resident outside India
Application cum Declaration for Purchase of Foreign Exchange under the Liberalised Remittance Scheme of USD 250,000
Reporting of loan agreement details under Foreign Exchange Management Act, 1999
FC-TRS
Export Declaration Form
Declaration of immovable property acquired in India by a person resident outside India who has established in India a branch, office or other place of business, excluding a liaison office
Form Foreign Direct Investment (FDI) in Limited Liability Partnership (LLP)
Annual return on Foreign Liabilities and Assets
TC – Approvals of Trade Credit
Form 83 – Reporting of ECB loan agreement details
Reporting of actual transactions of External Commercial Borrowings (ECB)
Application for raising External Commercial Borrowings (ECB) under Approval Route
Direct Investment in a Joint Venture (JV)/Wholly Owned Subsidiary Overseas (WOS) Approval/Reporting of Outward Remittances
Reporting of Outward Remittances under ESOP
Compounding Application Form and related document requirements
Format for Letter of Comfort for LO/BO
Format of report to DG of Police for LO/BO/PO
Annual Activity Certificate for LO/BO
FNC
Return to be filed by Issuer/Transferor who has arranged issue/transfer of Depository Receipts
Concepts & Definitions to be used while filling-in the Annual Return on Foreign Liabilities and Assets
FC-GPR
Advance Reporting & KYC Form
Features
: Comprehensive Guide to Foreign Exchange Management- 1E
: Ca Sudha G Bhushan
: 9789351296638
: Hard Bound
: 3500 approx. along with a CD
You may also be interested in