Simplified Approach to Advanced Auditing and Professional Ethics (CA Final) , 11E
In Stock
Ships in 3 - 5 Days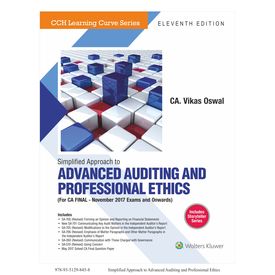 Description
About the Book
This is advance audit book for CA Final Students. The book unifies the knowledge of Accounting, Law and Technology. It has been written for the students to be equipped with the latest updates of the SAs, AS, Company Audit, Cost audit, Bank Audit, Special Audits, Audit of Public Sector Undertakings, Corporate Governance, Peer Review, Professional Ethics etc. This book focuses on healthier and much more improved approach for the examinations. The concepts have been thoroughly simplified and use of charts, examples and stories has been made extensively. It will help the students to remember the concepts using the mnemonic technique. The book also has plentiful of questions from the previous years for practice purpose.
Key Features
Includes Storyteller series

Covering CARO 2016

SA-700 (Revised) Forming an Opinion and Reporting on Financial Statements

New SA-701 Communicating Key Audit Matters in the Independent Auditor's Report

SA-705 (Revised) Modifications to the Opinion in the Independent Auditor's Report

SA-706 (Revised) Emphasis of Matter Paragraphs and Other Matter Paragraphs in the Independent Auditor's Report

SA-260 (Revised) Communication with Those Charged with Governance

SA-570 (Revised) Going Concern

May 2017 Solved CA Final Question Paper

SAE-3420 Assurance engagements to report on compilation of proforma financial information included in prospectus.

SRS 4410 Engagements to compile financial information.

It has statement showing distribution of marks, along with weightage of each chapter

Perfect and self-learning module

Tips for answer presentation

23 years exam questions covered
Table of Contents
Simplified Approach to Advanced Auditing and Professional Ethics (CA Final)

Chapter 1

Chapter 1 Standards on Auditing

Chapter 2

Auditing under Computerised Information System Environment or EDP Audit

Chapter 3

Special Audit Techniques – Risk-based Audit

Chapter 4

Company Audit

Chapter 5

Liabilities of Auditors

Chapter 6

Audit Report

Chapter 7

Audit Committee and Corporate Governance

Chapter 8

Audit of Consolidated Financial Statements

Chapter 9

Audit of Banks

Chapter 10

Audit of General Insurance Companies

Chapter 11

Audit of Co-operative Societies

Chapter 12

Audit of Non-banking Financial Company

Chapter 13

Audit under Fiscal Laws

Chapter 14

Cost Audit

Chapter 15

Special Audit Assignments

Chapter 16

Audit of Public Sector Undertakings

Chapter 17

Investigation and Due Diligence

Chapter 18

Peer Review

Chapter 19

Internal Audit, Management and Operational Audit

Chapter 20

Professional Ethics

Chapter 21

Guidance Notes on Auditing Aspects

Chapter 22

Brief on Accounting Standards

Appendix I

Previous Examination Question Paper

Appendix II

How to Present Answers for Practical Questions in Examination

Appendix III

Audit Dictionary
About the Author
Auhtor CA. Vikas Oswal, fellow member of ICAI, is a faculty member for Auditing.
Features
: Simplified Approach to Advanced Auditing and Professional Ethics (CA Final) , 11E
: Ca Vikas Oswal
: 9789351298458
: 960
You may also be interested in