Manual of Financial Accounting & Reporting (Indian GAAP, IndAS, IFRS) (2 volumes)
In Stock
Ships in 5 - 7 Days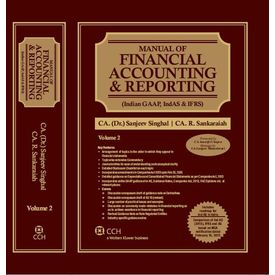 Description
About the Book
The book is an extensive Commentary giving detailed analysis of financial topics along with practical issues faced while finalizing the accounts. The topics in the book are arranged in the order in which various items appear in the financial statements. It contains detailed provisions with respect to the financial reporting and audit requirements for the companies operating in India, as per the revised provisions of the Companies Act 2013. This books is a must have reference for all Auditors, their teams, to refer while conducting audit. The book is also immensely useful for all Finance Departments. The PSUs, CAG and other Govt. departments will also find this book useful.
The book is an attempt to bring together the Accounting Standards and all other related information regarding a particular financial topic at one place under each topic making it an indispensable one for all professionals, or to be professionals.
Key Features of the book:
Arrangement of topics in the order in which various items appear in the financial statements

Topic wise extensive Commentary

Detailed Disclosure Checklist on each topic

Incorporates amendments in Companies Act 2013 upto Jan 31, 2015

Detailed guidance on Depreciation and Consolidated Financial Statements as per Companies Act, 2013

Incorporates roadmap to Ind AS implementation in India

Incorporates entire GAAP guidance for AS, Guidance Notes, Companies Act, 2013, EAC Opinions etc. at relevant places for ease of reading and understanding

Covering:

Latest comparison between Ind AS (2014), AS and IFRS

Journal entries for conceptual clarity and ease of understanding

Discussion on exposure draft of guidance note on Derivatives

Discussion on exposure draft of AS 10 (revised)

Large number of practical issues and examples

Discussion on commonly made mistakes in financial reporting so as to achieve excellence in financial reporting

Industry specific guidance notes

Detailed glossary
Features
: Manual of Financial Accounting & Reporting (Indian GAAP, IndAS, IFRS) (2 volumes)
: Ca Dr Sanjeev Singhal Ca R Sankaraiah
: 9789351294382
: hardvover
: 3528 approx.
You may also be interested in

Look for Similar Items by Category