Internal Auditing & Information Systems Auditing- Comprehensive Guide for Digital Era
In Stock
Ships in 5 - 7 Days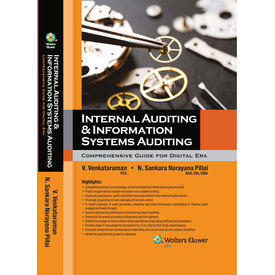 Description
About the Book
This book aims to provide a strong grounding on background concepts, and essential professional knowledge. It also elucidates practical aspects of conducting an internal audit and managing the audit function – both in-house and out sourced.
Authors have drawn from their academic background to provide lucid explanation of definitions and concepts and explained them with practical examples from their experience. The book is reader centric – it elucidates concepts, processes, techniques in simple language, using tables for easier grasping and practical examples the reader can relate to. Risk and control, the most important concepts for an internal auditor are dealt with extensively from scratch in a practical manner with several examples and practical steps in establishing good control
Various audit concepts, process, tools and techniques including computer based ones are covered in detail. Audit planning at engagement level as well as department level
An exclusive section on Information Systems Audit is added to bridge the knowledge gap commonly on IT risks and audit prevailing among internal auditors. This can be easily followed by readers with only working knowledge of IT. It covers Information System audit in all and its aspects in 20 chapters in simple language.
Aim of this book is to provide comprehensive coverage on concepts, tools & techniques and practical aspects of internal audit in simple language to serve as a text for students as well as reference manual for professionals.
Key Features
Comprehensive and lucid coverage of Internal Audit and Information Systems Audit

Practical approach to modern risk based value added auditing

Corporate governance, audit committee and expectations from internal audit

Thorough grounding on core concepts of

risk and control

In depth coverage of audit processes, planning, tools, and tools/techniques culminating in internal audit engagement walk through

Guide to familiarise audit teams on technology- based auditing

Checklists for practical auditing of business and Info systems

Detailed coverage of internal audit of key operational areas along with practical guidance

Provides base IT knowledge for students of CA, CIA, CISA & DISA (ICAI) examinations

Concepts and practices discussed are versatile and can be used across various industries.

Useful for practitioners (including new) as well as students
About the Authors
V.Venkataraman
Acadamic Qualification:
Commerce graduate form Calcutta University, Fellow Chartered Accountant and ACMA (UK).
Holding Rank in CA Final and has been honored with medals for first ranks in CA Inter and CA institute's PG Diploma in management accounting.
Professional Career:
Author has worked with reputed Indian companies handling Finance, Tax and Internal Audit. Worked with a large Group, in the Middle East in a variety of functions / positions like Director – Audit, CEO of a broking and portfolio company, Advisor to vice-Chairman; representing the group on the boards of companies, chaired Audit Committees etc. Author has been a faculty in management training programs and other professional courses. He has authored a book on titled "Audit Committee Hand Book "published by Tata McGraw Hill in 2006.
N. Sankara Narayana Pillai
Acadamic Qualification:
Science graduate from Madurai University, Associate Chartered Accountant, DISA CISA, CISM,&CRISC (ISACA, USA) CIA ( IIA, USA).
Professional Career:
Has vast experience of internal audit, finance, information Security and risk management with a large reputed Indian company. Has been honored with Microsoft security strategy award.
Has be experience in teaching internal auditing to CIA students and conducted various training programs on information system audit ,Information security and risk management on behalf of Chennai chapter of ISACA, IIA, ICAI, RBI training college, business management schools and engineering colleges
Features
: Internal Auditing & Information Systems Auditing- Comprehensive Guide for Digital Era
: Fca V Venkataraman And Ca N Sankara Narayana Pillai
: 9789351296652
: Hard Bound
: 400 Approx.
You may also be interested in
Look for Similar Items by Category