An Insight into Indian Accounting Standards (" Road map, analysis and guidance for implementation to Ind AS converged with IFRS" ) – 2 volumes
In Stock
Ships in 5 - 7 Days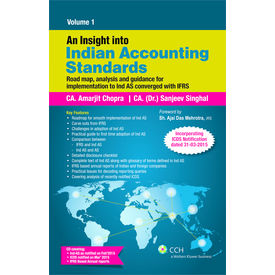 Description
About the Book:
An Insight into Indian Accounting Standards is a book covering the concept of Ind- AS in detail. This book comes in two volumes, wherein the first Volume provides an in depth analysis of the IND AS, review of complete roadmap, disclosure requirements, contextual and comparative analysis of Ind – AS with IFRS vis-à-vis prevailing Indian GAAP for better understanding. The Second volume contains the IND AS for ready reference. The Enclosed CD also carries the content of the Ind AS
This would be useful for first time adoption of Ind-AS by corporates. It would also be very useful for all the professionals working in the direction of implementation of Ind-AS. This books provides industry specific guidance for application of Ind-AS. It bridges the gap between AS and Ind-AS by dint of various case studies and application guides. It provides model financial statements incorporating the changes originating from Ind-AS for smooth implementation.
Unique Points
This book provides a roadmap for smooth implementation of Ind AS and bridges the gap from AS to Ind-AS.

It provides Carve outs from IFRS for the Ind- AS as notified by MCA as on Feb' 2011 and Feb'2015

This books provides guidance vis-à-vis to challenges in adoption of Ind AS

It provides comprehensive coverage of requirements of Ind-AS, detailed guide for application and case studies relating to First time adoption of Ind AS.

Covering Analysis of recently notified ICDS on 31st March 2015

Practical Issues for decoding reporting queries. Contains discussion over larger number of practical issues. (These are the material of ICAI for which permission is seeked for reproduction)

It provides the guidance for practical application of Ind-AS for various financial statements:

Balance Sheet related Ind AS

Profit & Loss related Ind AS

Cash Flow related Ind AS

Group reporting requirements related Ind AS

Presentation/Disclosure/specific accounting requirements related Ind AS

Industry specific application of Ind-AS detailed requirement and its presentation.

It provides detailed disclosure checklist on Ind-AS

Detailed Comparison between

IFRS and Ind AS

Ind AS and AS

Complete bare text of Ind AS along with Glossary of terms defined in Ind AS

Specimen IFRS based Annual reports of Indian and Foreign companies

The book would be printed on bible paper, making it light-weight and easy to read.
CD covering:
a) Ind-As as notified on Feb'2015
b) ICDS notified on Mar' 2015
c) IFRS Based Annual reports
Features
: An Insight into Indian Accounting Standards (" Road map, analysis and guidance for implementation to Ind AS converged with IFRS" ) – 2 volumes
: Dr Sanjeev Singhal Ca Amarjit Chopra
: 9789351294481
: soft bound
You may also be interested in
Look for Similar Items by Category