Best Practices by Leading Chief Audit Executives. By: Deepjee Singhal & Manish Pipalia (Feb'14)
In Stock
Ships in 5 - 7 Days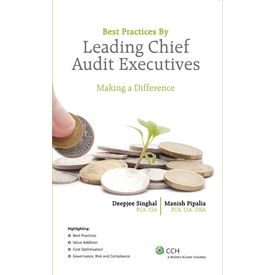 Description
With the role of Internal Audit being brought into focus by the thought leadership all over the world, more emphasis has been laid on the accountability of Internal Audit by the new Companies Act, 2013.
This book contains "best practices" from leading internal audit departments as outlined by CAEs of certain top companies. This book has been drafted to provide knowledge to the business fraternity on how CAEs are structuring their departments and engaging the management and the organisation to deliver superior audit services.
It is one of the few books that has brought together at a single place best practices across wide range of organisations. It will act as a good source to benchmark current practices and if required, chart a path of change.
Highlights of the book:
· Best Practices
· Value Addition
· Cost Optimisation
· Governance, Risk and Compliance
Content
· Best Practices by Leading Chief Audit Executives (CAEs)
· A brief extract on the CAE and company profile at the beginning of every chapter
· A short Interview with the CAE at the end of every chapter
· Insight on Internal Auditing as a profession and its future
Features
: Best Practices by Leading Chief Audit Executives. By: Deepjee Singhal & Manish Pipalia (Feb'14)
: Deepjee Singhal Manish Pipalia
: 9789351291862
: 9789351291862
You may also be interested in
Look for Similar Items by Category